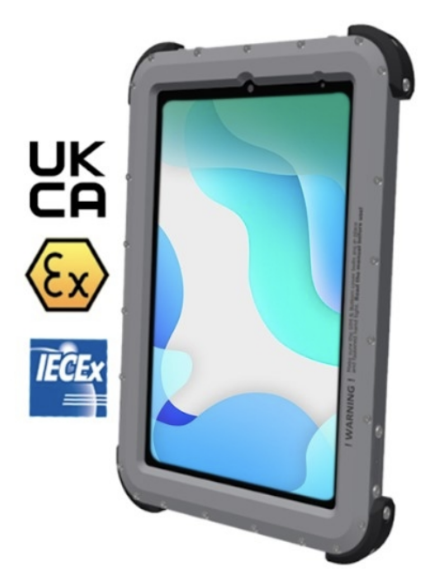 Explosion Safety: II 2G ; Ex db IIC T4 Gb
Introducing the 6th generation Intrinsically Safe iPad Mini, now specially engineered for use in hazardous Zone 1/Zone 21 classified locations. These explosion-proof iPads are meticulously crafted by Apple and subsequently converted and certified in accordance with rigorous ATEX and IECEx standards. This certification guarantees the tablets safe operation in gas/vapor Zone 1 hazardous environments, aligning with the US NEC Class 1 Division 1 equipment (C1D1) standards. To ensure the iPad Mini 6 remains water-resistant and compliant with ATEX/EX standards, its casing undergoes meticulous modification. This, combined with the integration of a secure electrical circuit, enables secure usage in Zone 1 hazardous environments. While retaining all of its original features, its worth noting that the fingerprint scanner is excluded in this specialized model.
The ATEX iPad Mini 6 Zone 1/Zone 21 showcases an explosion proof ipad case design, providing an elevated level of safety in hazardous environments. Equipped with both Wi-Fi and Cellular 5G capabilities, it not only excels as a secure smart tablet but also serves as a dependable video or photo camera. This device offers seamless connectivity options through Wi-Fi or Bluetooth for added convenience. These Explosion Proof tablets are safe to be used in hazardous locations.
Charger Voltage: Supports a range of 100-240 Volts (charger)
Charger Frequency: Operates at 50/60 Hz (charger)
Color: Aluminium finish
Dimensions: Measures 24 x 17 x 2.2 cm
Weight: Weighs 990 grams
Explosion Safety Rating: Classified as II 2G ; Ex db IIC T4 Gb
ATEX II 2G; Ex db IIC T4 Gb / II 2D; Ex tb IIIA T135°C Db / II 3D; Ex tc IIIB T135°C Dc
IECEx Zone 1: Ex db IIC T4 Gb / Ex tb IIIA T135°C Db / Ex tc IIIB T135°C Dc
UKCA Zone 1: II db IIC T4 Gb
Class I, Zone 1, AEx db IIC T4 Gb
Class I, Division 2, Groups A, B, C & D, T4
INMETRO: Available on request
Petrochemical plants and facilities
Offshore environments (such as oil rigs and platforms)
Serving as an Ex-safe camera for hazardous locations
Supporting connected worker initiatives and enabling Industry 4.0 solutions
Facilitating the implementation of digital twin technology in hazardous areas
The ATEX iPad Mini 6 Zone 1 allows for easy self-installation and replacement of SIM cards. Users can conveniently install or change SIM cards on their own without requiring external assistance.
The Zone 1 & 2 versions of the ATEX, IECEx, and UKCA certified iPad Mini 6 meet the required safety standards for usage in hazardous environments.
The iPad Mini 6 features a patented design that sets it apart from others in the market.
Also, the product is available for swift delivery worldwide, ensuring prompt accessibility to customers across the globe.
The Apple Business Manager, an open platform, provides a comprehensive solution for managing Apple devices and software within a business or organizational setting.
Conversions & Certification