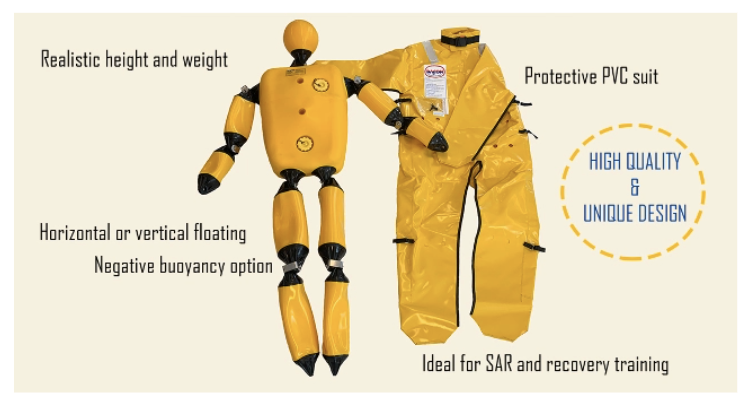 Dacon Rescue Dummy | Manikin
Introducing the Dacon Rescue Dummy, a pinnacle of versatility and realism in training manikins. Crafted by Dacon Rescue Equipment, a trusted name in maritime rescue equipment, this dummy stands out as a vital tool for comprehensive evacuation and rescue drills.

Most realistic and durable Marine Rescue Dummy in market. Adjustable weight min 22kgs (empty) to max 85 kgs (fully filled with water).

Limbs and joints articulate similar to a real person 

Adjustable between horizontal and vertical floating position 

Extremely robust design and replaceable PVC coverall 

22 kg Shipping weight only 

Can be weighted to negative buoyancy for underwater search & rescue 

Drop Tested Dummy from 55m drop height successfully
Designed to mirror the height, weight, and limb structure of a human, the Dacon Rescue Dummy sets the stage for lifelike scenarios, ensuring your crew is well-prepared for any emergency at sea. Engineered to withstand the harshest conditions encountered during sea rescue drills, this dummy is built tough, enduring rough handling, high falls, and the most challenging weather elements.
Constructed from rugged PVC, the Dacon Rescue Dummy, complete with its protective PVC suit, is engineered for durability, offering unmatched longevity in training sessions. Its adjustable weight, ranging from 22 to 85 kg (49 to 187 lbs), allows you to fine-tune the training experience to match specific scenarios. Achieving your desired weight is as simple as filling it with water, providing a tailored training experience for your crew.
To simulate real-life situations, the Dacon Rescue Dummy offers a range of floating positions, including horizontal and vertical orientations. For underwater training, the option of negative buoyancy is also available. This flexibility ensures that your crew gains experience in various rescue scenarios.
When it comes to visibility, the Dacon Rescue Dummy can be outfitted with a standard yellow coverall or an advanced grey coverall, specially designed for Search and Rescue (SAR) operations. This additional choice further enhances the training experience, enabling your crew to adapt to different environments.
Incorporating the Dacon Rescue Dummy into your training regimen means equipping your crew with a realistic and adaptable tool that prepares them for the unpredictable challenges of maritime rescue operations. With its exceptional features and quality, this dummy stands as a testament to Dacon Rescue Equipments commitment to safety and preparedness at sea.
Mimics realistic height (190 cm) and weight (up to 85 kg)
Possesses lifelike joints, mirroring restricted limb movements like a human's
Exceptionally durable – capable of withstanding a drop from a platform's helicopter deck and enduring rough handling
Inherently buoyant, offering the choice of horizontal and vertical floating positions
Also available with negative buoyancy if required
Features a drainable design for reduced transportation or storage weight (22 kg)
Offers practical transportation dimensions (89x67x33 cm)
Equipped with a lifting eye in the neck for convenient stowage and crane handling.
Ships
Training centers
Diver training facilities
Rescue organizations
Fire departments
Police agencies
Dummy height: 190 cm
Dummy weight: max. 85 kg
Transportation weight: 22 kg
Transportation dimensions: 89x67x33 cm
Dummy: Robust PVC
Joints: Stainless steel
Coverall: PVC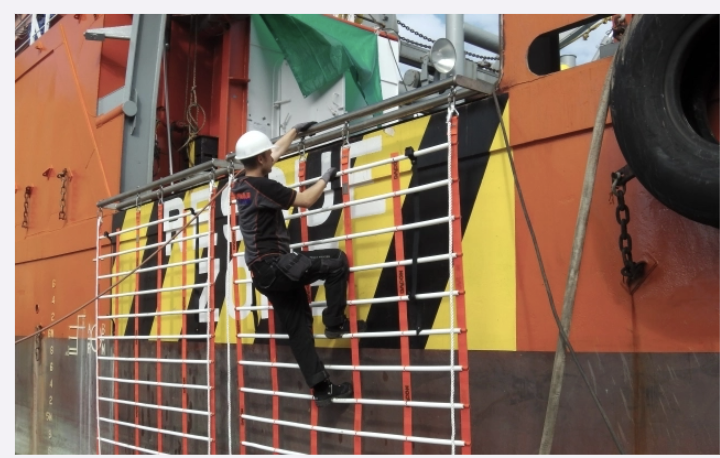 Introducing Dacon Scrambling Net: A Superior Maritime Rescue Solution

Scrambling Nets are very well built, highly durable and strong rigid nets. The rigid steps makes it easy to climb to safety providing more stability and good grip. The installation frame allows for fold-over stowage and distance from vessels side to scrambling net steps along with distancing wheels on nets allowing for safe usage. 
The rods are for Scramble Nets and Rescue Cradles and are tested for minimum tolerance of 450 kg per 1 rod.

More Stable – Non-Slip Climbing – Grip Surface
Compared to more Traditional Rope Scrambling Nets !
Rigid scrambling nets comply to various Class regulation requirements including:
DNV, RINA, GL, ABS, BV, NMD Norway, UKOOA, NOGEPA, Transport Canada.
In the realm of maritime safety and rescue equipment, Dacon stands as a beacon of reliability and innovation. At the forefront of our offerings is the Dacon Scrambling Net, a formidable tool designed to excel in the most demanding sea rescue scenarios. Crafted with meticulous attention to detail, this net embodies the core values of Dacon rescue equipment: solidity, stability, and ease of use.
Dacon Scrambling Net: Engineered for Excellence
Dacon Scrambling Net is not just a nets a lifeline in critical situations. With a robust construction and an intuitive design, it ensures a swift and secure means of boarding for distressed individuals. Unlike conventional rope nets, our product boasts a suite of features that elevate its user- friendliness. The incorporation of rigid rungs and heavy-duty webbing guarantees a stable, non-slip surface for climbing, while specialized distance rollers provide added grip and foothold support. This unique combination ensures the net retains its shape and integrity even in the most challenging conditions.
Customization Tailored to Your Vessel
Recognizing that every vessel is unique, Dacon offers complete customization of the Scrambling Net to align with your specific requirements. Our dedicated team ensures that the net fits seamlessly with your vessels configuration, providing you with a tailored solution that inspires confidence in your rescue operations.
Enhanced Capabilities for Active Recovery
For situations where rescuees may face difficulty in climbing to safety, Dacon Scrambling Net can be equipped with hauling lines for active recovery. This additional feature exemplifies Dacons commitment to comprehensive rescue solutions, ensuring that no one is left behind.
Optional Fold-Over Installation Frame for Added Convenience
In response to the evolving needs of our clientele, we offer an optional fold-over installation frame crafted from durable stainless steel. This frame elevates the net, providing the necessary clearance from the ship side, in adherence to UKOOA regulations. For vessels seeking a permanent fixture, even when not in use, this installation frame proves invaluable.
In conclusion, Dacon Scrambling Net epitomizes the pinnacle of maritime rescue equipment, combining innovation, reliability, and adaptability. With Dacon, you're not just investing in equipment; you're investing in a legacy of safety and success at sea. Trust Dacon, trust excellence in rescue solutions.
Compliance with UKOOA guidelines and other classification society notations for standby vessels. Available in an alternative all-black design for navy or police vessels
Rigid, non-slip climbing and grip surface
Optional fold-over frame
DNV Type Approval certified
5 year guarantee
Constructed with steps made of rigid fiberglass rods equipped with non-slip sleeves.
Vertical webbing with a high tensile strength of 5 MT.
Utilizes latex-saturated webbing for enhanced wear resistance.
Equipped with internal lead weights in the lower steps to ensure stability during deployment.
Includes distance rollers that provide support to the net, keeping it away from the vessel's side.
Designed without a distinct front or rear side, which simplifies both installation and deployment processes.
Features safety hooks for swift and secure deployment.
ERRV / Standby vessels
Navy ships
Offshore support vessels
SAR cutters
Offshore wind vessels
Horizontal length: Normally 1.5-2.5 m/ net. Any length available.
Vertical depth: Installation height + 1.5 m below the surface
Weight: 4 kgs/m2 + 6 kgs/m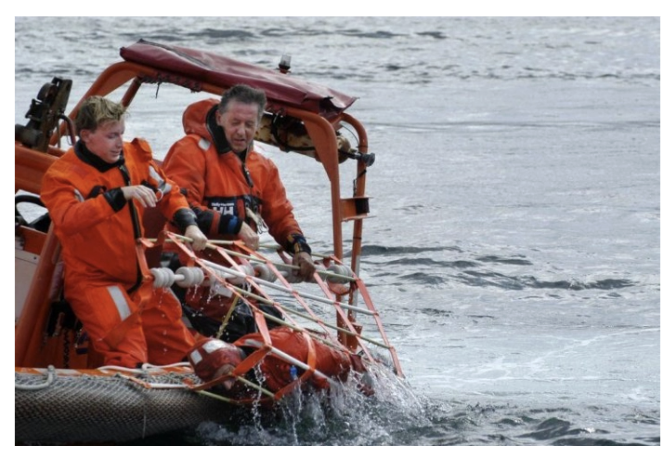 Dacon Rescue Frame | Rescue Cradle
Introducing the Dacon Rescue Frame: Your Ultimate Man-Overboard Recovery Solution

30 Years track record in the North Sea with thousands of units sold – Proven quality that usually outlives the boat itself 
5 Year Warranty* 
No mandatory service – Significantly reduces Total Lifecycle Cost 
Providing bigger vertical Length to form suitable sized cradle upon deloyment and more wider cradles for more support to casualty during rescue. All this and yet comparatively lighter and less bulkier in stowage.
Can be built to any dimension without "customization" cost 
Intuitive use, no instructions required 
Attractive price 
DNV Type Examination Certificate (compliant with Solas and Subchapter M requirements)
Manoeuvring stick to keep the frame away from the ship side and facilitate entry
When it comes to marine safety, having the right equipment can mean the difference between life and death. Thats why we proudly present the Dacon Rescue Frame – a cutting-edge rescue cradle designed for the effective horizontal recovery of injured or unconscious individuals at sea.
Why Choose Dacon Rescue Frame?
Purpose-Built for Man-Overboard Recovery: The Dacon Rescue Frame is meticulously engineered to facilitate the safe and efficient retrieval of exhausted, seriously injured, or unconscious persons from the water. Its innovative design allows for the formation of a secure rescue cradle, ensuring that casualties are recovered with utmost care.
Ideal for Various Vessel Sizes: Whether you're on a small fishing boat or a medium-sized vessel, the Dacon Rescue Frame is your go-to solution. Movable, foldable, and space-efficient, it can be easily stowed on board, ready to be deployed during an emergency.
Safety First – Gentle Horizontal Recovery: We understand the critical importance of handling casualties delicately. After prolonged exposure to water, individuals may be at risk of significant health issues. The Dacon Rescue Frames design prioritizes gentle horizontal recovery, minimizing the potential for exacerbating existing injuries.
Manual or Power-Assisted Operation: Versatility is at the core of the Dacon Rescue Frame. On smaller boats, it can be operated manually, allowing a single crew member to execute a successful recovery. For vessels with higher freeboards, deployment can be facilitated using a small deck crane or winch.
Customized to Your Needs:
At Dacon, we believe in providing equipment tailored to your specific requirements. While our rescue cradle comes in standard sizes suitable for freeboards up to 4 meters, we are more than happy to accommodate special requests for alternative dimensions. When you reach out to us, our team will work closely with you to determine the perfect fit for your vessel.
Dacon Rescue Frame Editions:
For enhanced visibility and coordination, the Dacon Rescue Frame is available in two distinct editions. The standard red/white edition is well-suited for rescue craft, while an all-black edition is tailored for deployment by the navy, coast guard, police authorities, and similar agencies. When it comes to maritime safety and man-overboard recovery, the Dacon Rescue Frame stands as a beacon of reliability, durability, and effectiveness. Invest in the best – choose Dacon for your rescue equipment needs.
Enables man overboard recovery in a horizontal position
Quick and easy to handle for rescue personnel
Extremely robust and durable design
Easily folded into a rescue cradle
Can also be used as a climbing net
Requires little storage space
MOB boats
SAR boats
Fast rescue crafts
Life boats
Cruise tenders
Tugs and workboats
Military RHIBS
Available in sizes to fit freeboards from 0,5-4 meters (other sizes upon request)
Standard length: 180 cm
Depth: 180 cm – 650 cm
Weight: 3 kg/m2
Rods: Fiberglass
Webbing: Polyester
Fittings: Stainless steel
Rope: Polyester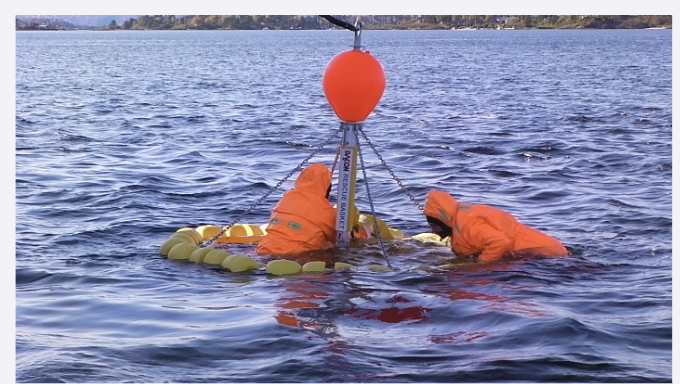 Introducing the Dacon Rescue Basket, a vital component of Dacons cutting-edge maritime rescue equipment. Engineered to excel in mass rescue scenarios on various vessels, it provides a stable and power-assisted method for swift action during man overboard emergencies.
Crafted to withstand the formidable forces of the North Sea, the Dacon Rescue Basket stands as one of the most robust and reliable rescue baskets available. Its durable aluminum construction allows it to support multiple individuals simultaneously, making it perfect for mass rescue operations involving conscious individuals. Operable with ease through a deck crane, it ensures efficient and safe recovery.
Prioritizing the well-being of conscious individuals in distress, the Dacon Rescue Basket incorporates thoughtful design elements, including a low floating position, soft padding, and rotating fenders. These features work in tandem to facilitate a gentle and secure rescue operation, instilling confidence in both rescuers and those being rescued.
In summary, the Dacon Rescue Basket sets a new standard in maritime rescue equipment, providing a powerful and dependable solution for vessels of all sizes. With its advanced features and unwavering durability, it stands ready to meet the challenges of even the most demanding rescue scenarios. Trust in Dacon for excellence in maritime safety and rescue.
Available in three different sizes
The rescue basket is available in three different sizes, holding either 4, 6 or 8 people at once. Choose a system that suits the needs and size of your crew and vessel.
Easy entry for individuals being rescued
A great benefit of a Dacon Rescue Basket is that entry from the water requires less effort, compared to many other baskets on the market. During operation our basket will maintain a low floating position, and floating into the basket thereby requires less effort.

Protects vessel
At sea, you may have to deal with tough wind and big waves. During a rescue operation, the rescue basket often ends up being hauled against the side of the vessel – which can be damaging to the ship side. The fenders installed around the Dacon Rescue Basket play an important role in preventing this.

Convenient storage

Our basket has a foldable lifting mast that can be folded or raised in just a few seconds, without the need for extra equipment. This allows for easy storage onboard the ship.
8 person rescue basket (RSB-300)
Dimensions while in use:
 Diameter: 300 cm
Height: 280 cm (76,5 cm with folded mast)
Weight: 155 kg
Shipping dimensions (shipped in two halves):
 Length: 300 cm
Width: 180 cm
Height: 130 cm
4 person rescue basket (RSB-200)
Dimensions while in use:
Diameter: 200 cm
Height: 155 cm (76,5 cm with folded mast)
Weight: 110 kg
Shipping dimensions (shipped in two halves):
Length: 200 cm
Width: 135 cm
Height: 155 cm
6 person rescue basket (RSB-250)
Dimensions while in use:
Diameter: 250 cm
Height: 240 cm (76,5 cm with folded mast)
Weight: 120 kg
Shipping dimensions (shipped in two halves):
Length: 270 cm
Width: 160 cm
Height: 120 cm
Structure: Aluminium
Floor: Expanded aluminium plate
Wire and fittings: Stainless steel
Floats: Expanded PVC
Side net: Aluminium